With 284 million users, Twitter is a force to be reckoned with when it comes to social media platforms. Considered a "micro-blogging" site, for years Twitter was defined by its 140 character limit, although recently, the site has doubled that character limit to 280. Regardless of the change, Twitter remains a popular place for users to connect, get up-to-the-minute updates on news and current events, and engage with people, companies, and organizations that interest them.
Today, around 72% of nonprofit organizations use Twitter as part of their social media strategy, and while it's somewhat simple to get signed up and start tweeting, understanding how to use Twitter in the most effective way requires a little bit of know-how. Here's a quick, simple guide to crafting the perfect tweet.
1. Keep it concise
Twitter's character limit is what sets it apart from other social media sites. Messages are meant to be quick and concise. Getting your point across in limited characters isn't always easy, which is why it might take a few tries to craft the perfect message. When writing your tweet, it's necessary to get right to the point — cut out all the extra fluff and think of your tweet as a headline that you want to draw in readers.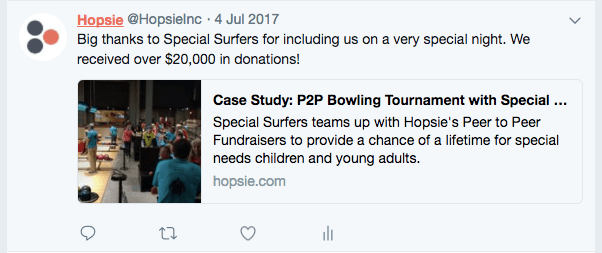 2. Attach a photo.
When possible, attach a graphic to your tweet. This helps your tweets stand out on a user's Twitter newsfeed, and studies show that tweets with visuals attached drove significantly more engagement than text-only tweets. If you don't have a visual handy, try using a free design site like Canva, or a free stock photo site like Unsplash.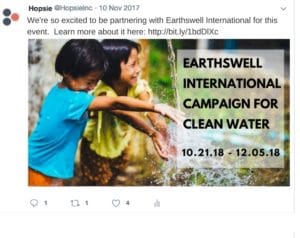 3. Attach a link.
If you can, always include a link in your tweet. Research has shown that tweets with links in them have an 85% higher retweet rate than those that don't. Additionally, linking back to your website or other social media pages increases your traffic on different channels.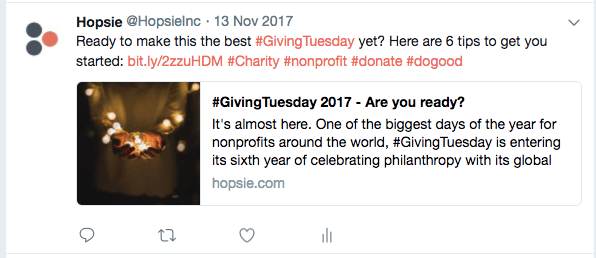 4. Use hashtags.
Use a couple hashtags in every tweet in order to include your tweet in a much larger conversation. What's a hashtag? Hashtags are a big part of what makes Twitter such a powerful tool when it comes to reaching out to and engaging with other users. When you use a hashtag in your tweet, it's automatically aggregated with other tweets using that same hashtag. This creates a stream of tweets that are all relevant to a certain topic. For instance, if you use the hashtag #GivingTuesday in your tweet about Giving Tuesday, your tweet will be included in the #GivingTuesday hashtag stream. This means users interested in #GivingTuesday and exploring that stream will see your tweet, and, if it interests them, engage.
While you don't want to hashtag every single word of your tweet, include a couple relevant hashtags that will add them to streams you want to be involved in. For instance, popular nonprofit hashtags might be #GivingTuesday #Fundraising #Nonprofits or #dogood. Using these will include your tweet in a stream of tweets with the same hashtag.