EdCorps is a project started by Real World Scholars in 2013.
Real World Scholars supports educators looking to bring innovation and entrepreneurial thinking into the classroom because entrepreneurship can bring the learning process to life. They work with teachers who use entrepreneurship to engage students in core curriculum while empowering them to explore passions and develop skills they will need after they graduate.
Like any other business, an EdCorp (a student-run Education Corporation) sells a product or service that you can buy. But unlike purchasing from any other business, with EdCorps, your purchase supports education and other great causes at the same time.
Hopsie and EdCorps partnered to create an intuitive user interface for users to view available products, learn about the different EdCorps and their offerings, as well as increase conversion on product purchases.
The outcome is a refined, stunning, pragmatic website.
We had to overcome something very tricky: keep the overall feel soft and geared towards the younger entrepreneurs without making it feel 'childish'. Combining a modern and refined design, a broad color palette, and an edgy typography selection helped us achieve this result. The layout and functionality are conversion-centric with a fun yet impressive feel, showing that the EdCorps are young but professional and capable. The amazing products they produce are showcased to show quality and thoughtfulness, as well as give the prospective customer information about the EdCorps and classroom
A $250K investment in EdCorps, as well as the new brand and website, were launched at the 2017 SXSW event in Austin, TX.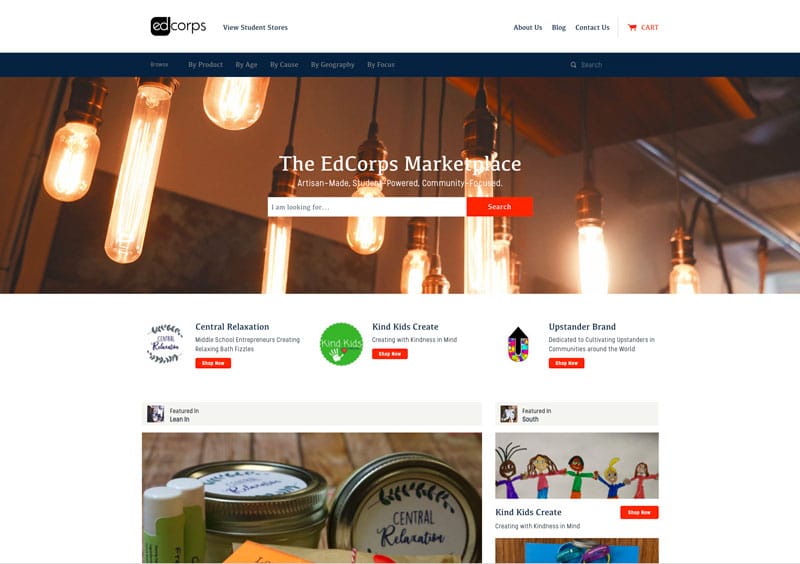 "Hopsie worked all weekend to get the site launched on time. That's one of the kindest things I've ever experienced in a work setting"
– Elyse Burden, Co-Founder
Interested in learning more about our website design & development process?
We are extremely excited to apply our conversion-centric design to nonprofit use cases. If you would like to learn more, check out our website services page.