The Anatomy of a Perfect Facebook Post
With over 2 billion active users in 2017, Facebook is an incredibly powerful marketing tool that isn't going away anytime soon. Whether you're a seasoned pro at using Facebook to promote your nonprofit or you're still learning the ropes, it's helpful to take the time to examine whether or not your Facebook posts are fully maximizing their potential. Before you hit the "Publish" button on your next post, glance over our checklist to ensure your post is getting the reach and engagement it's capable of.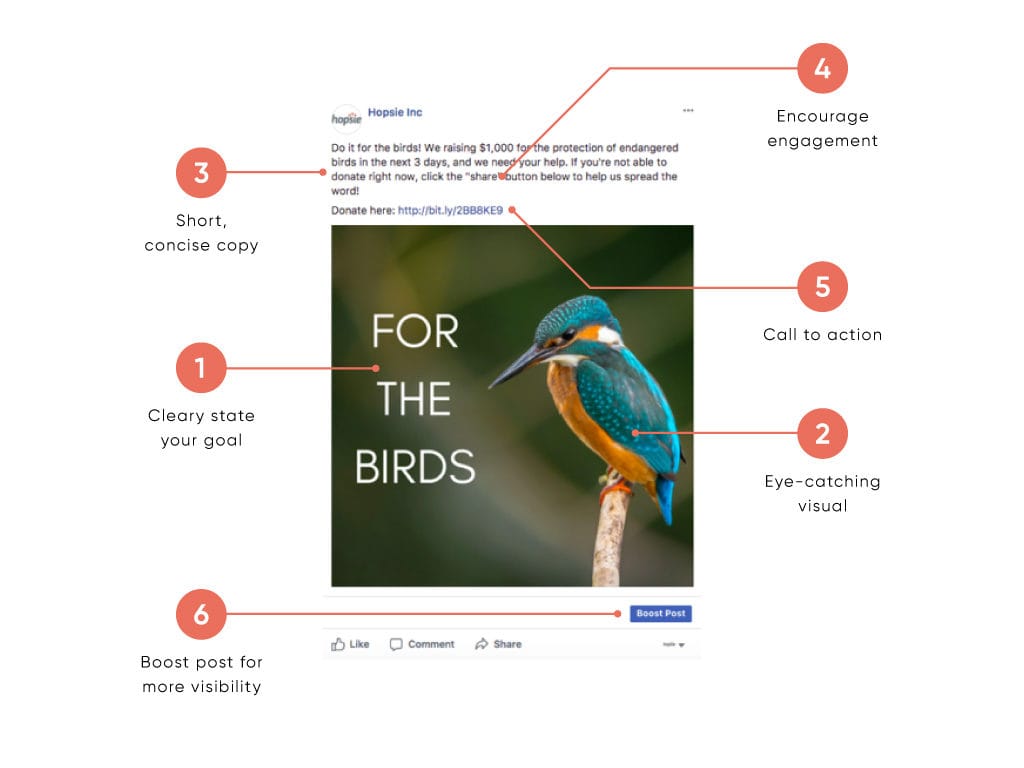 -Make sure your post has a clear objective. What do you want your post to accomplish? Pick one clear goal or message, and stick with it. Are you raising money for a certain cause? Sharing news about your organization? Craft a post with one cohesive message — this avoids confusion, keeps the copy short, and gives the user a clear call to action
-Get visual Studies have shown that posts with a photo or video attached get markedly more engagement than text-only posts. Try uploading media with your post whenever you can. If you're low on visuals, start snapping photos at your events and keep them stored on your phone or computer for easy access. You can also use free stock photo websites like Unsplash or free design tools like Canva to make your own visuals.
-Keep it short Make sure your copy is short and to the point. Users tend to shy away from too much copy, so state your objective right away and try to get your point across in as few words as possible.
-Ask your users to engage The more your users engage with your post, the more visibility it gains through their networks. You can ask for engagement a number of ways — you can simply ask your users to share your post on their pages to spread the word, or you can pose a question or statement within the copy of your post that asks them to comment or like your post in response. Example: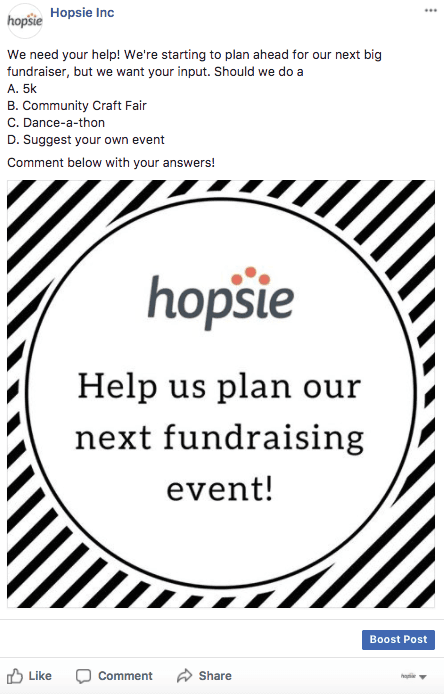 -Provide a clear call to action This is important. Make sure your Facebook post presents a clear call to action to your users, whether it's asking them to donate, read your blog, or share your post. Be sure to include a link to direct your users where you want them to go, whether it's to your donation page, blog, resource, etc. Use sites like bit.ly text to shorten your links so they're not too long and cumbersome.

-Optional: Boost your post If you're still building your Facebook fan base and really want to attract new likes to your page, Facebook gives you the option to "boost" your post. For as little as $5 a day, Facebook will promote your post to people who haven't yet liked your page. You can choose which demographic you target, from location, gender, age, interests, and more.